The Trusted Emergency Storm Roof Repair Company in Cary NC
After severe thunder and hail storms it's only normal to be concerned about the condition of your roof. Especially if you see roofers working on your neighbor's homes'. Other times, you might have an active leak or in more severe cases your home can be exposed to the elements. When you're stressed you may feel like the best thing to do is hire someone quickly, but trust us, it's more important to make sure that the repairs or replacement is done right.Don't let your sense of urgency get the better of you, a little bit of research on the roofer you're going to hire can go a long way. The roofing experts at Oak City are GAF and certainteed certified and, though it's not required, we have a general contractors license, meaning you don't have to worry about us not getting the job done.
Things To Be On The Lookout After A Storm
Aside from the obvious looking for leaks and major damage to your roof, you need to be aware of the existence of what we, in the industry call "storm chasers". After the storm is over you might start getting calls or visits from "roofing company" representatives who start trying to convince you that you need to have your roof replaced or repaired. These "storm chasers" can leave you with higher insurance premiums, a roof that still needs to be repaired, and no way to cover the actual repair costs (insurance won't pay to repair your roof twice). Most of the time, what we see, are customers who have a "new roof" that falls apart and needs to be replaced in a year or two, rather than the 20 or 30 year lifespan that a properly installed roof can have. Here are some things you should be on the lookout for:
They Don't Seem To Know Much About Roofs –  This one may sound odd, but some of these roofing companies hire 20-30 sales people after a storm who go from door to door with one job: To get signed agreements. If your sales rep is constantly checking a reference sheet or just wants you to sign the agreement today, now, before its too late…you may want to find someone who is willing to actually walk you through what's wrong with your roof.
Asking For Payment In Full – It's not unusual for a roofing company to ask for some of the upfront costs, which will likely be reimbursed by your insurance provider, but if a company is trying to get you to sign with payment in full, be wary. Once you've paid in full it's hard to ensure that the work will ever get done.
Asking For No Down Payment At All – If you are asked to sign an agreement with no down payment, it may seem like an attractive option, but read the agreement. Often times, though not legally binding, these agreements can be stressful. While this can potentially cause a problem of denied claims for repairs you don't need, more often we see shoddy craftsmanship and roofs that need to be repaired in very little time after the installation. Unfortunately, by the time you notice problems with your new roof, these storm chasers are long gone.
Out of State License Plates. – It's usually a bad sign if a roofing contractor has out of state license plates. Many "storm chasers" go from city to city after a storm trying to get an initial payment or signature on their "contract", but what happens if they don't finish the job?
Offering To Pay The Deductible – If someone comes to your door and pushes you to sign a contract immediately, while offering a way around paying the deductible, just close the door. Not paying your deductible is insurance fraud and if they are willing to risk the penalties of insurance fraud for a quick buck, do you think they'll care if they do a good job on your roof?
Fake Roof Damage Claims: We know that you aren't a roofer,but if you haven't noticed leaky walls or ceilings and don't see signs of damage, you may want to get a second opinion. Don't let anyone sell you on services that you don't need, even if they say "don't worry it's all free with your homeowners insurance".
Unfortunately, you can get rid of scammers and shady business practices anymore than you can control the weather, but you can prevent yourself from being taken advantage of.
How Can You Choose A Reliable Emergency Roof Repair Company in Cary NC?
Choosing a reputable roofing contractor in Cary is important, and just doing some simple research can go along way. Never "just take their word for it" always verify that they're legitimate, no matter how friendly they might seem. Always ask to see a certification or license, try to see if you can find them online and look at their reviews. If they're local it wont be hard to to get a reference or two. Finally, if it seems to good to be true, that's because it probably is, don't let high pressure make you make a mistake.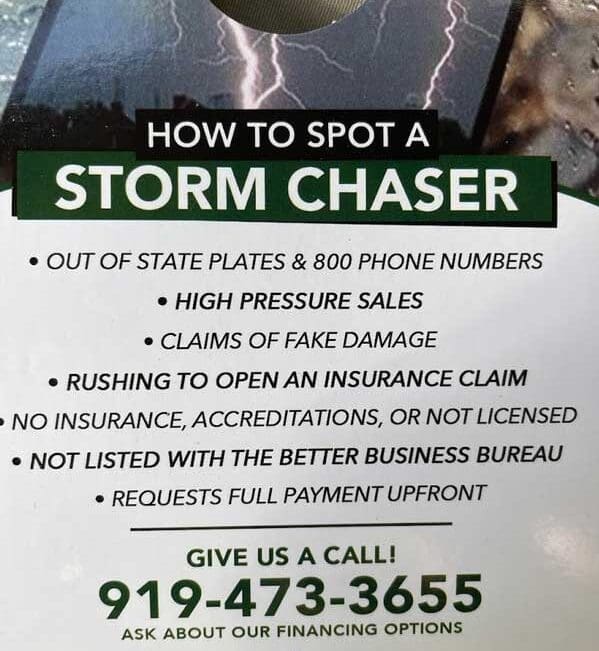 CONTACT US FOR A FREE QUOTE ON STORM DAMAGED ROOF REPAIRS IN CARY NC
If your house is leaky or you suspect that you have damage to your home, give us a call. A member of our team will be more than happy to come provide a free roof inspection where we check for damage and give you an assessment and recommendations if we find any problems. We've been in Cary for over a decade and part of the reason we're as successful as we are is our attention to detail and commitment to quality service. Sure, other companies say things like that, but we mean it, just ask any of our previous customers. While we provide emergency roof repairs, we also provide a number of other roofing and contracting services including: roof replacements, vinyl window replacements, seamless gutter installation, roof inspections. skylight installations and more. If you are in need of emergency roof storm damage repairs in Raleigh, Apex, Cary, Durham, Chapel Hill, Knightdale, Holly Springs, Fuquay Varina, Knightdale, Morrisville, Garner, or anywhere else in our service area, give us a call at 919-473-3655 or contact us online with any questions or to schedule service.